gkj ghjkghj
Our Team/
Board of Directors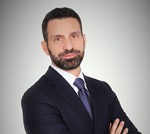 Imad Al Fadel
Board Member
Imad is a co-founder and Vice Chairman of Generation Alfa, (a shareholder in Emerging Investment Partners); he also serves as Vice Chairman of Alfadel Group. He has founded various financial institutions and investment companies across the Middle East and has served on the Board of Directors of various well-established institutions in the region. He holds a Bachelor of Science in Business Administration with a focus in Investments and Economics from Babson College, Wellesley, MA, USA, Imad Alfadel has a Masters in International Business from Webster University, Geneva, CH. He joined Alfadel Group in 2002, prior to that he was member of the Active Advisory Group of Merrill Lynch Bank Suisse, Geneva. 
The advisory group's main focus was to manage the bank's sophisticated ultra high net worth client portfolios.
As representative of Alfadel Group, Imad Alfadel holds several board positions, among which are Board member of Banque Bemo Saudi Fransi, member of the Board of Solidarity Alliance Insurance Company, and Vice Chairman of Arab Finance Corporation S.A.L.
Alfadel Group is a leading MENA based holding with a focus on strategic industries such as satellite services, water treatment, transport, environment and financial services. In business for more than 48 years, the Group has become one of the players on the regional business scene. With the increasing growth of the Syrian economy, Alfadel Group had diversified its portfolio of investments to include stakes in large institutions encompassing the banking, insurance and real estate development sectors.