EIP - Our Team - Board Of Directors
Our Team/
Board of Directors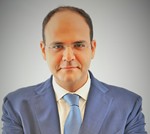 Karim Burhani, CFA
Managing Director
Karim Burhani, is a Co-Founder and Managing Director at Emerging Investment Partners. He has over 12 years in Private Equity and Corporate Finance practice in the MENA region. Prior to co-founding EIP in 2014, Mr. Burhani served for eight years as a Director in Euro Mena Funds sponsored by Capital Trust Group. At the Fund he oversaw several of the Group's activities across the MENA region. These responsibilities included deal sourcing, developing and maintaining relationships with investment banks, private equity houses and advisory firms in MENA and GCC; reviewing, screening and analyzing investment opportunities;
execution, due diligence and monitoring activities among others.
Mr. Burhani led several of the firm's investments and analyzed several potential opportunities in diverse industries including oil and gas, construction, food processing, insurance, packaging, retail etc. While at EuroMena, Mr. Burhani served as Interim Chief Financial Officer at the Sakson Group (one of the Fund's portfolio companies), where he assumed a significant role in oil drilling fleet expansion decisions, debt structuring and implementing corporate governance procedures. Before that, Mr. Burhani held a number of advisory posts for public and private companies in the Kingdom of Saudi Arabia.
Mr. Burhani holds a B.S in Banking and Finance, is a CFA Charter holder, and received an MBA from London Business School.